The Essential guide to Dublin
By
Friday, 6th January 2017
Filed under: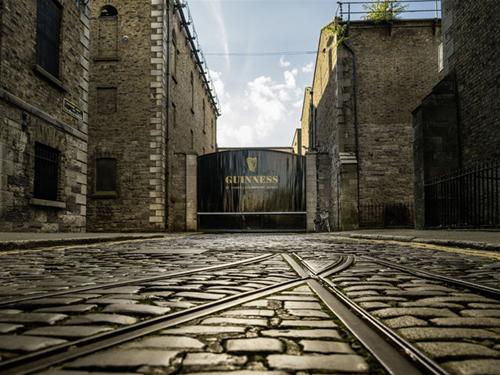 Essential Guide to Dublin 
The City is a mass fusion of old and new, its grand buildings and Georgian squares hark back to a time when this was the Empires 2nd City. Gone but not forgotten as they say. The City centre itself is ideal to explore on foot and many of the best museums, galleries, shops and attractions are centrally located. Notable shops include Kilkenny, Avoca and Brown Thomas. Dublin is busy and is getting busier, one can see why with its many sights and burgeoning tourist industry. Be sure to visit the Official tourist office - 'Visit Dublin' on Suffolk street with friendly & knowledgeable staff on hand. Beware of the unofficial outlets that pose as the real deal. Dublin is a safe city but the usual precautions apply and be careful crossing the road guys.
Ok so the history bit, Dublin was visited by the Vikings around the 8th century and they decided to stay and sure why not, nestled by the mountains and with excellent river and sea access. It was ideal for a spot of slave trading and raiding along the coast. Of course they got a bit soft after a while and received a bit of a beating from Brian Boru and the lads. After a few hundred years of raping and pillaging they eventually took to religion. King Sitric Silkenbeard was the first Christian Norse king in Ireland who established a church on present day Christchurch cathedral.
Next was Strongbow and the Anglo-Normans in the 12th c. and later Queen Elizabeth who set up the first university in Ireland, Trinity college of course. This was in the 16th century - no Catholics need apply mind you. There was another few hundred years of occasional uprisings and legends such as Robert Emmet, Parnell, Wolfe Tone and O'Connell amongst others kept the cause of Catholic rights and an independent Irish nation alive. Last year was the 100th anniversary of the failed Easter Rising which eventually led to our independence after the rebels were martyred. Public opinion rallied to their cause after the deaths and a guerrilla war ensued which finally led to an Irish Free State in the 26 southern counties, while the north remained in British hands.
Today Dublin is dusting itself off from the economic collapse after the property bubble burst and the enormous bank debts that were run up by well, the banks.
Dublin Highlights:
Trinity College is one of the oldest universities in Europe built to prevent protestants from having to go to the continent to receive a Catholic education and become ' infected with popery'. It produced many of Irelands literary glitterati. Wander its grounds and see the Book of Kells, well a page or two of it anyway of this fantastically illustrated manuscript. Be warned the queue can be long. Check out ' The Long Hall' where a certain movie involving R2D2 was filmed. There is the Guinness Storehouse, this marketing behemoth is Irelands No.1 tourist attraction. If you love Guinness and like glass elevators that show you  great views of Dublin at the bar on top, then this is most certainly for you.
Kilmainham Gaol was where the rebels of 1916 were executed and houses all manner of objects associated with the rebellion and is a must for those interested in this aspect of Irish history. Not the cherriest of places obviously but an essential stop nonetheless.
Well worth a visit is the National Museum of Archaeology, pieces from Irelands 'golden age' such as the iconic Tara Brooch, Ardagh chalice along with Viking aretfacts and the famous 'bog bodies' are all on display. Of Dublin Castle the seat of English rule since the 13th c. only a tower remains of the original structure. While here be sure to check out the Chester Beatty Library with its impressive collection of Eastern art . In the Viking quarter is the immensely photogenic Christ Church Cathedral view the large crypt which is home to a mummified cat chasing a rat ! Next door for those interested in the Viking history of Dublin is Dubvlinia with interactive exhibits and models of the old Viking city. Its a must for kids and big kids alike.           
Irelands largest church St. Patricks Cathedral where Jonathan Swift of ' Gullivers Travels' fame was once a Dean stands on an early Christian site. St Patrick was believed to have baptized converts at a well here in the 5th century. Later on 'Strongbow' the Anglo Norman ' invader' used the church as a stable for his horses!  
Another little gem is the Little Museum of Dublin - visits by guided tour. If you wish for a little retreat whilst in Dublin, a walk along the Royal canal or a stroll through St. Stephens Green will tick the box or for a longer walk head to Europes largest enclosed City park - The Phoneix Park with its resident deer herd. The President of Ireland also resides here in Aras an Uachtarain.
For fun niche Dublin tours I recommend the hilarious Viking Splash Tour or the spooky Dublin Ghost Bus Tour - after all Dublin is the home of 'Dracula' author Bram Stoker. When it comes to restaurants Dublin has more than its fair share of Michelin starred eateries along with some cracking pubs such as Kehoe's, O'Donoghues and the Brazen Head which claims to be the oldest pub in the country, join the queue on that one. Its had stellar clientele over the years from celebs to patriots and famous writers. A few recommended restaurants include Patrick Guilbaud, Chapter One, The Winding stair, L'Ecrivain and the Pigs Ear.
If you would like to explore further afield from Dublin there is loads to do nearby such as the immense Newgrange Passage Tomb, palatial Powerscourt House and Gardens and gorgeous Glendalough. Dublin has great airport access from all major North American and European cities and is 2.5 hours form Galway, 3 hours to Cork and 1.5 hours to Belfast. There are numerous hotels to cater to all tastes and budgets. Contact us for more information on a private luxury tour of Ireland. For more information on hotels etc please contact us.
For advice and Itinerary planning of your Private Tour of Ireland - Contact Us
SaveSave
SaveSave
SaveSave
SaveSave