Star Wars and Ireland
By
Luke Skywalker
Wednesday, 21st February 2018
Filed under:
Ireland's Wild Atlantic Way is like a galaxy far far away.......
J.J. Abrams chose Ireland with its dramatic cliffs, windswept mountains, crashing waves and seascapes, ever changing weather and ancient fortresses to represent the otherwordly universe of Star Wars
Indeed Mark Hamill was particularly taken with the chosen places and its people
"To come back to Ireland was a great treat for all of us because the beauty of that country is unmatched,"
"You get up in the morning and see vistas where I was sure it was a special effect."
"The people are so nice. I would urge anyone planning a vacation to go to Ireland.  You'll never find another place like it … I wish we could have shot the entire film there."
After the filming of 'The Force Awakens ' the filming scouts returned again and all along the Wild Atlantic Way locations were chosen in Cork, Donegal, Kerry and Clare. For those who dont know ,The Wild Atlantic Way is the worlds longest signed coastal driving route.
A story goes that the crew were driving through a remote part of Ireland in the dead of night attempting to find their filming location (on the quiet of course). Driving through a little village and disorientated and a little lost after a long drive the two big production vehicles ended up rear ending each other. Of course the noise was heard all through the village and within hours the whole region was awash with stories that  Star Wars were in town!  Shopfronts and pubfronts fronts eager for a refresh were suddenly filled with Star Wars memorabilia T – shirts, light sabres and Obi Wan Kinobi figurines heralded the arrival of the Movie stars. The locals were certainly not going to be caught napping for this unique event.
Filming locations include Malin head in County Donegal in the far North a dramatic and off the beaten path part of Ireland with some of the countrys best scenery. In County Clare the scenic Loop Head was chosen and has some of the most scenic vistas of the Wild Atlantic Way ideal for a private tour of Ireland.
Further south Sybil head on the Dingle Peninsula featured prominently and its easy to see why. National Geographic once described this area as "the most beautiful place on earth" Incidentally 'Chewbacca' popped into the local primary school to the delight of the children. Not to be outdone they all started playing the Star Wars theme tune on their tin whistles!  Close to here is the UNESCO site of the fabled Skellig Micheal as seen in the last scene of  'The Force Awakens'. George Bernard Shaw described it as a place of "from our dream world". What better place for Luke Skywalker to hide out in a place where 6th century monks once lived in beehive huts. This island is a most magical yet distant crag that's protrudes dramatically from the wild Atlantic ocean. If living on a rock wasnt hardship enough the monks also had to contend with Viking attacks! If you suffer from vertigo as ( 600 steep stone steps)  this is best avoided but be sure to check out the Skellig experience in Portmagee for a more grounded insight into life on Skellig. 
Last but not least In County Cork, Brow head was the chosen location part of the spectacular Mizen peninsula and is also Irelands most southerly point. Irelands teardrop the Fastnet rock lighthouse can be seen in the distance and nearby is O'Sullivans pub in Crookhaven. Try their Irish coffee, rhubarb crumble or seafood chowder, its simply out of this world! (Sorry folks) This area is rich in sea faring lore of sailors, smugglers and pirates. This area aches to be explored as part of a private tour of Ireland and be sure check out the Mizen Head experience! 
For your own private custom tour of Ireland and Star Wars locations on the Wild Atlantic Way Contact Us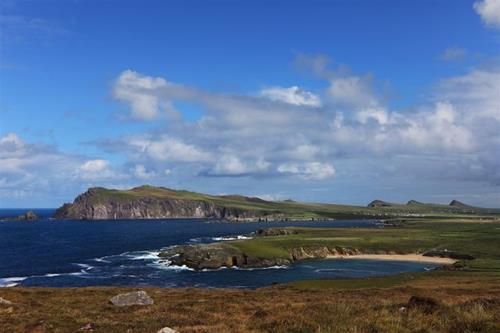 SaveSave
SaveSave