Irish Castles and Castle Hotels
By
JohnWwt
Monday, 6th November 2017
Filed under: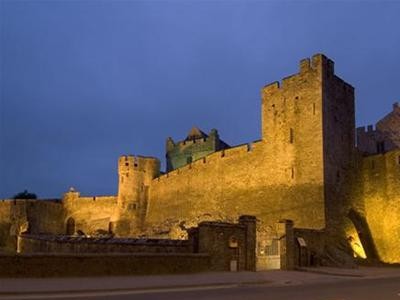 The typical Irish Castle was called a 'Tower House', smelly draughty, dark places and no I am not talking about the dungeons! This type of Castle was primarily built for defence, not comfort. For any Chieftain or Lord worth their salt they were an absolute must. Each castle was surrounded by a bawn from the Irish 'Bo-Dhun' meaning cow fort, securing your cattle was of prime importance as cattle were like the modern day currency.This was a time when cattle raiding was the national sport!
Every Irish castle has a stirring story whether it be a haunting, a tragedy, war, romance, sieges or daring escapes. It was the pesky Normans that introduced the first castles to Ireland from 1200 onwards constructing wooden 'motte and bailey' type structures before they started building the stone ones we see today.The Gaelic Irish not to be outdone moved out of their ringforts and began building stone castles also. This building boom continued practically unabated for 300 years apart from the Black Death and the Bruce Invasions.
A visit to at least one castle is a must on a vacation to Ireland
"Frowning ruins of many castles still remain as the solitary monuments of a long and gloomy period of distraction and anarchy"
P.J.Fitzgerald
It wasn't all misery though, the diet at the time would have been rich and plentiful, the rivers and forests teemed with life. Thus a feature of bustling castle life was feasting and entertainment whereby visitors were treated to generous Irish hospitality, i.e. plenty of drink, food, storytelling and bards playing the latest hits. A measure of the chieftain was how great a party he threw. Sleeping was pretty much wherever you could find a spot with little or no privacy and more than likely sharing a bed. The toilet above which you would hang your overcoat to kill the lice and fleas was basically a hole which led to the outside wall. 
The tower house of which most Irish castles are, were centres of economic, administration and the local community. They were basically defended homesteads. In times of stife and war the male inhabitants would often be expected to support the chieftain in attacking foreigners, defending the castle or fighting the neighbours! There was always something brewing.
A key feature of an Irish castle include the dreaded 'murder hole' where attackers once they entered the castle porch were fed a barrage of arrows, rocks and hot liquids from a hole above them.
Which Irish castles to visit? 
Aughnanure Castle
This splendid O' Flaherty high-rise castle has a natural moat and is very well preserved and would have been quite comfortable with fireplaces and large upper windows along with a separate exterior banqueting area which lies in ruins.
Blarney Castle –
This is in fact two ruinous tower house castles built side by side and sits prettily atop a crag overlooking the green pastures of County Cork. Wander the magical grounds at your leisure.Chieftain MacCarthy after kissing the Blarney stone so flattered Queen Elizabeth  that she thought he was full of Blarney talk!
Only the brave choose to kiss the stone atop the castles battlements!
Trim Castle
This was built by Hugh DeLacy in 1172 and is the largest Norman castle in Ireland and was used in the movie 'Braveheart'. It was built along the banks of the River Boyne in the ancient province of Meath
Bunratty Castle
One of the most visited in Ireland and furnished as it would have been in the 1500's. Visit the Great Hall where guests would have been entertained by the Earl of Thomond.
Unwelcome guests would have been thrown into the dungeon. The Folk park is well worth a visit to see 19th c urban and rural Irish life with recreated fishermans cottages and characters in costume.
Cahir Castle
This picture postcard castle used in a few movies has a moat, portcullis and machicalations and was involved in a siege in 1599 and the castles inhabitants later surrendered (wisely) to Cromwells men in 1650. Be sure to get the excellent guided tour which brings the castles history to life.
King Johns Castle
One of the most imposing castles in Ireland which sits menacingly astride the mighty river Shannon has massive walls and plenty of interactive displays for all ages.
Dunluce Castle
One of the most photographed castles in Ireland literally is built on a rock with a cliff on three sides, the only way in across a bridge chasm. During a storm in 1639 the kitchen fell into the sea along with a few unfortunates! The Spanish Aramada ship the Girona was shipwrecked on the rocks below and the castle occupants seized the cannon to use in their own gunports – medieval recycling!
Ross castle
One of the most romantic castles in Ireland  it overlooks the beautiful mountains,valleys and Lakes of Killarney. This was one of the last castles to fall to English artillery as its position was safely surrounded by bog and lakes. Entry is by the excellent guided tour only
Kilkenny Castle
This imposing and much visited castle is in the medieval town of Kilkenny.
There are plenty more hidden and Off the beaten path castle gems which we will keep secret for now!
Which Irish Castles to stay in?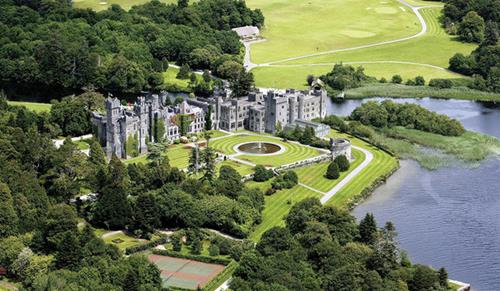 Ashford Castle
Amazing location next to the beautiful Lough Corrib  this is a dream castle, superb grounds and one of the best hotels in Ireland. This is the Irish Castle hotel that everybody dreams of staying in. Its historic charm and the long list of celebrities and dignitaries that have resided here is as long as my arm. Recently it had a makeover enhancing delicately its sumptous appearance.
Ashford is adjacent to beautiful Cong village famous for the 'Quiet Man' movie with lovely woodland and river walks. The hotel looks onto Lough Corrib and boat trips are possible from the hotel dock. Try out some falconry, fishing or horseriding and after retreat for a meal in the 'dungeon' or dress up for the elegant 'George V' dining room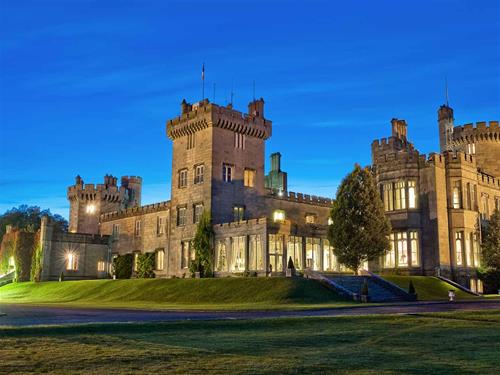 Dromoland Castle
Service with a smile. Enjoy the meandering driveway up to this splendid luxury Irish Castle. View the wonderful grounds upon which this 15th century castle is set. This castle was the former home of the O'Brien Clan, descendants of Brian Boru High King of Ireland.  
Explore the castles art, furnisings and architectural splendor. Walk the estate, try some falconry, fishing, archery or some golf on its 18 hole course! The staff here are wonderful and really seek to make you feel like a King or Queen. Check out Bunratty Castle nearby and Crauggenowen Folk Park. Dromoland is conveniently located minutes from Shannon International airport. 
Adare Manor
This manor hotel has certainly castle size and features. The olde world luxury of Adare Manor on magnificent grounds adjacent to Irelands prettiest village Adare make it a huge hit. Its complete with its own 18 hole golf course and walking trails. Close by are Norman castles, Abbeys and thatched cottages by the flowing River Maigue. A truly luxurious Irish hotel which has recently reopened after getting a makeover.
Ballyseede Castle
This hotel in Kerry is Kerrys only castle hotel. It was the home of the earls of Desmond who waged war with the Queen of England. This castle is complete with an Irish wolfhound and knights armour. There is so much history here that it must be haunted. Thankfully the dining and level of service more than makes up for the rare apparition.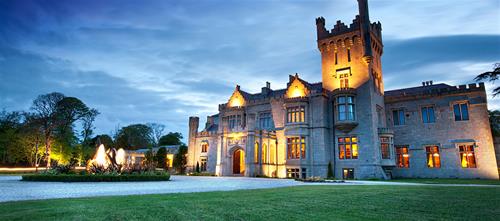 Lough Eske Castle
One of the finest castle hotels in the world
5 Star Lough Eske is located close to Donegal .Winner of numerous awards including the Conde Naste Luxury hotel Ireland. The hotel also has a reknowned spa and superior dining options offering excellent service and comfort.
Plenty of activities here and Donegal has some of the best scenery in Ireland. Enjoy the secluded lakeside location and charming ambience in this superb castle hotel.
Waterford Castle
This 16th c Fitzgerald castle hotel is on a private island resort of its own with an 18 hole golf course.
Enjoy clay shooting and walking trails.The dining here is renowned in this 800 year old castle with award wining food in the superior setting of the Munster room. For a luxurious breakaway in the south east this ticks all the boxes
Clontarf Castle
An enticing fusion of old and new this is conveniently located close to Dublin airport and provides a great level of comfort .The walls ooze history and former guests include Handel, composer of the 'Messiah' and a nearby resident was Bram Stoker.
Lough Rynn
Set on 350 acres of scenic woods and grounds on the lapping shores of Lough Rynn this majestic hotel is quite the experience. Old worlde charm and elegance are fused with modern creature comforts.The food here is fantastic and the scenery tranquil and relaxing, fishing and horseriding are just some of the activities on offer.
Castle Leslie
Retreat to this oasis in the countryside oozing  with history and granduer. Filled to the brim with paintings and antiques and situated on 1000 acres of idylicc land replete with mature forest and tranquil lakes. This off the beaten path experience will transport you back in time as you explore the grounds, go fishing horseriding or simply relax with a book by the fire. Or choose to soak the muscles in the hot tub or watch a movie in the cinema.
"At Castle Leslie, you will get a unique perception of time; its links with reality are tenuous indeed and thereby lies its enchantment.'  Irish Tourist Board
For advice and Itinerary planning of your Luxury Tour of Ireland - Contact Us
SaveSave
SaveSave